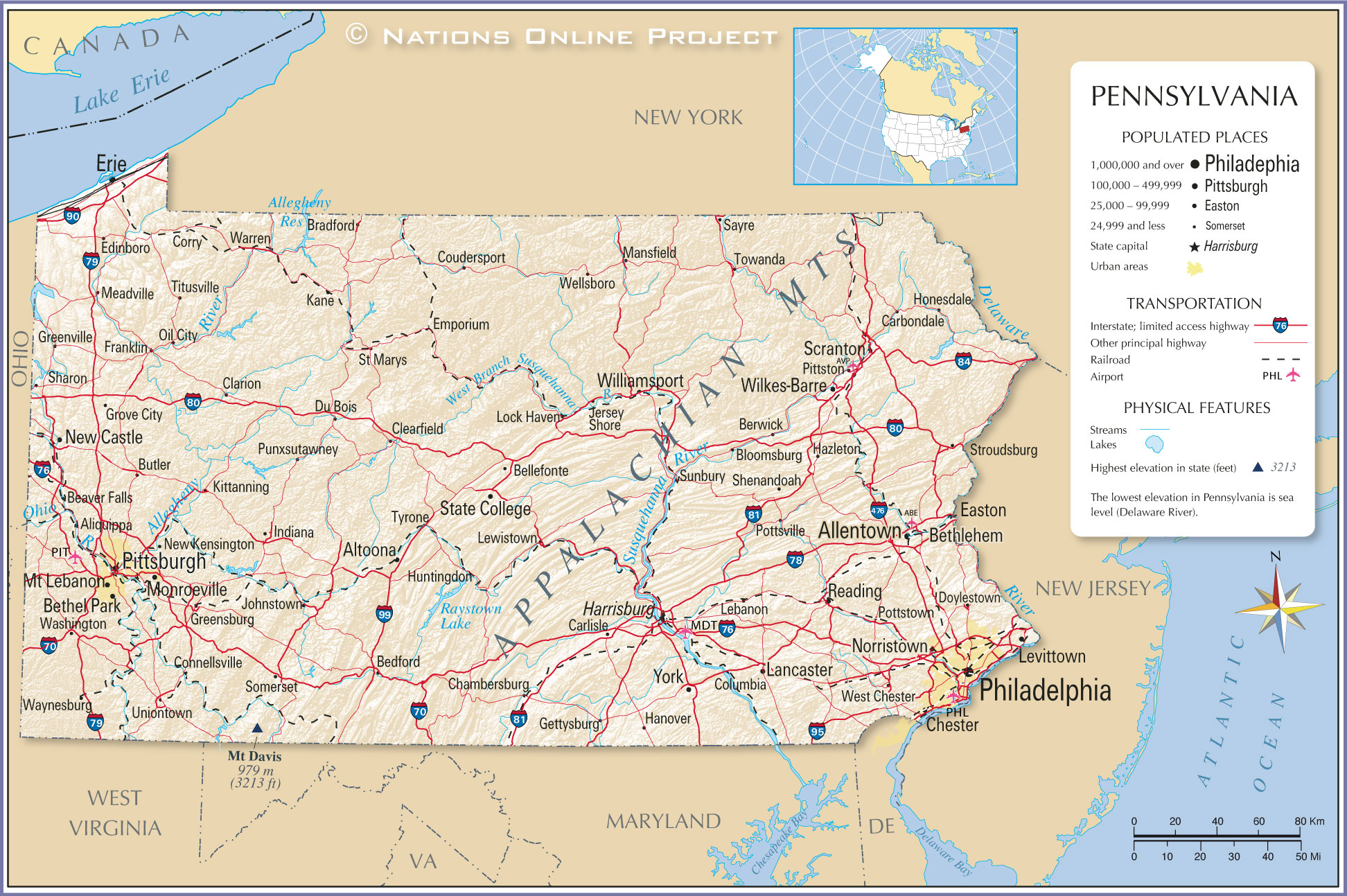 Pennsylvania
STATE, UNITED STATES
Seal of Pennsylvania
The state bird of Pennsylvania is the ruffed grouse.
The state flower of Pennsylvania is the mountain laurel.
CAPITAL
POPULATION1

(2010) 12,702,379; (2019 est.) 12,801,989
TOTAL AREA (SQ MI)

46,054
TOTAL AREA (SQ KM)

119,280
GOVERNOR

Tom Wolf (Democrat)
STATE NICKNAME

Keystone State
DATE OF ADMISSION

Dec. 12, 17872
STATE MOTTO

"Virtue, Liberty, and Independence"
STATE BIRD
STATE FLOWER
STATE SONG

"Pennsylvania"
U.S. SENATORS

Robert P. Casey (Democrat)
Pat Toomey (Republican)
SEATS IN U.S. HOUSE OF REPRESENTATIVES

18 (of 435)
TIME ZONE

Eastern (GMT − 5 hours)
1Excluding military abroad.
2Original state; date shown is that of ratification of Constitution.
_______________________________________________
back to top
_______________________________________________
1. Philly is a city of firsts. On top of hosting America's first birthday, it also started up the country's first daily newspaper—The Philadelphia Packet and Daily Advertiser—in 1784.
2. The city is home to America's first zoo.
3. It's also home to the first hospital.
4. And, naturally, the first medical school!
5. Philadelphia is actually renowned for its medical sector. One out of every six doctors in the U.S. is trained in Philly.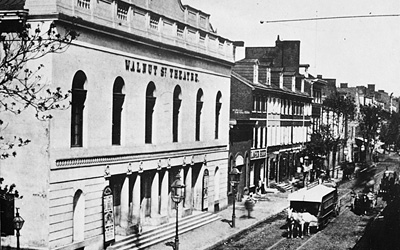 6. Move over, England. The Walnut Street Theater is actually the oldest continually running theater in the English-speaking world.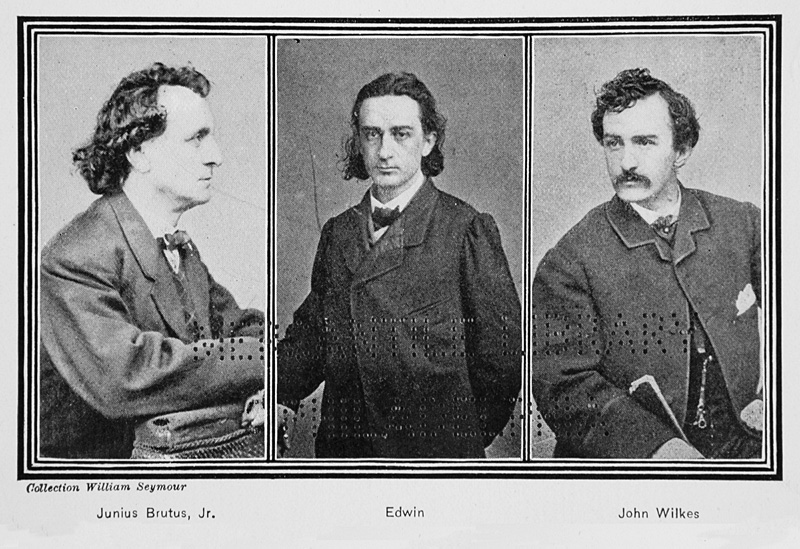 7. It was originally owned by Edwin Booth—you might know him as John Wilkes Booth's brother.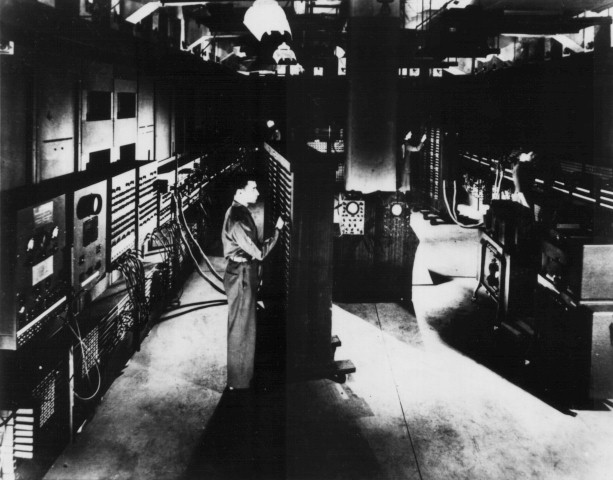 8. Philly became home to the first general purpose computer in 1946.
9. It weighed 27 tons!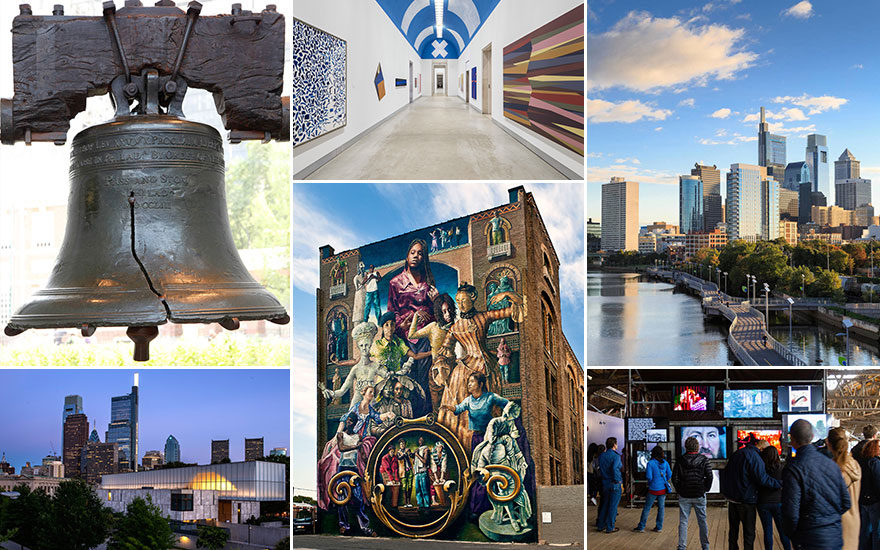 10. Philly boasts more Impressionist paintings than any other city outside Paris.
_______________________________________________
back to top
_______________________________________________
Islam, a religion founded by the Prophet Muhammad in the early seventh century in the Arabian Peninsula, has had a presence in the greater Philadelphia region since the colonial era, but the number of Muslims locally did not grow significantly until after the 1960s.
By the 2010s, when Muslims in the United States numbered more than three million, the Philadelphia region had the second-highest concentration of Muslims among American metropolitan areas, behind only Detroit.
Area Muslims have represented a wide variety of religious orientations (Sunni, Salafi, Shiʿa, Sufi, and more) and races and ethnicities including African American, Asian, and Arab.
Reflecting national trends, Muslims have ranked among the fastest-growing religious groups in the region.
Click Link to read more :
https://philadelphiaencyclopedia.org/archive/islam/
_______________________________________________
back to top
_______________________________________________