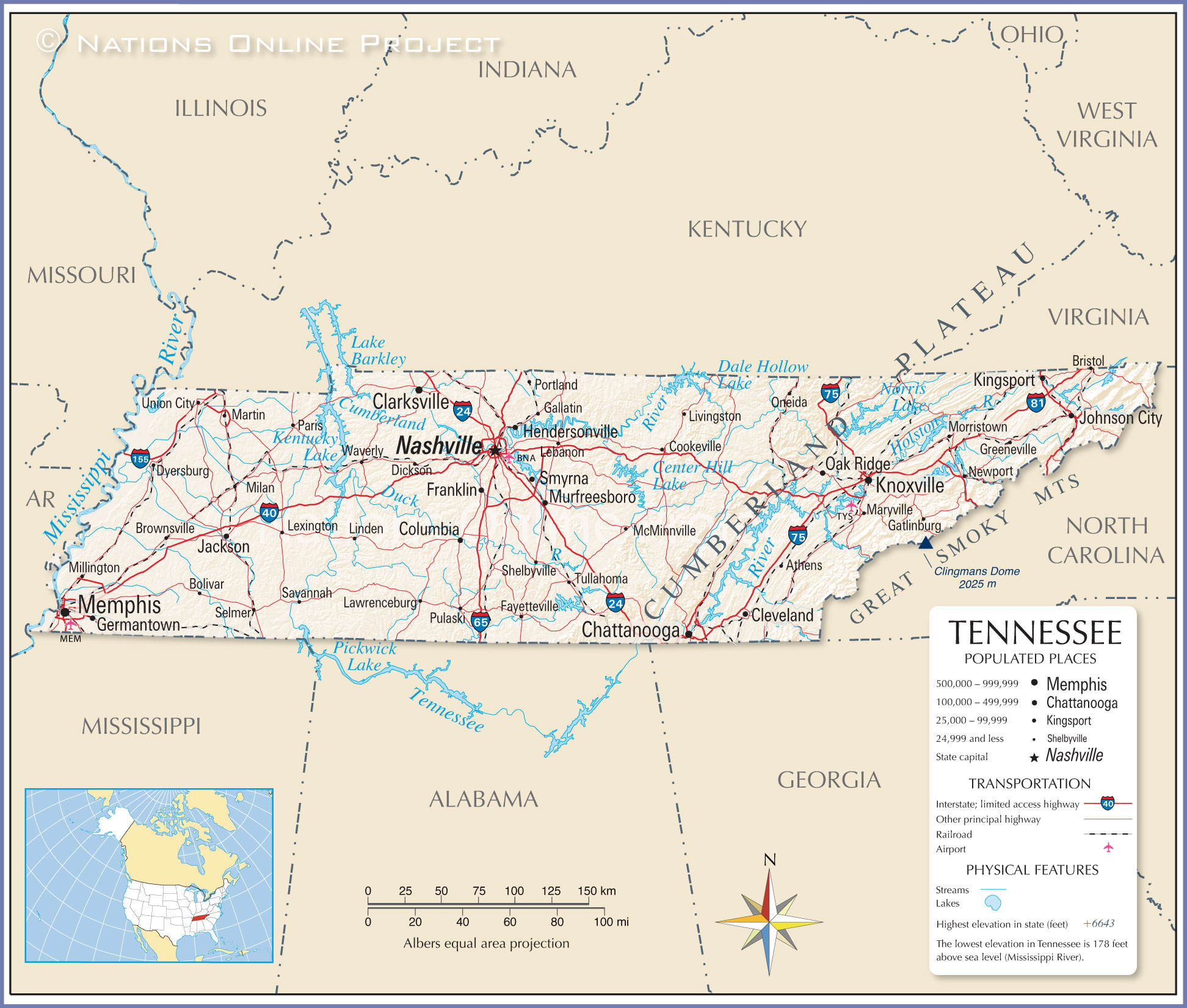 Tennessee
STATE, UNITED STATES
Seal of Tennessee
The mockingbird is the state bird of Tennessee.
Iris.
CAPITAL
POPULATION1

(2010) 6,346,105; (2019 est.) 6,829,174
TOTAL AREA (SQ MI)

42,144
TOTAL AREA (SQ KM)

109,153
GOVERNOR

Bill Haslam (Republican)
STATE NICKNAME

Volunteer State
DATE OF ADMISSION

June 1, 1796
STATE MOTTO

"Agriculture and Commerce"
STATE BIRD2

northern mockingbird
bobwhite quail
STATE FLOWER3

iris
purple passionflower
STATE SONGS

"My Homeland, Tennessee"
"When It's Iris Time in Tennessee"
"My Tennessee"
"The Tennessee Waltz"
"Rocky Top"
"Tennessee"
"The Pride of Tennessee"
"Smokey Mountain Rain"
U.S. SENATORS

Lamar Alexander (Republican)
Marsha Blackburn (Republican)
SEATS IN U.S. HOUSE OF REPRESENTATIVES

9 (of 435)
TIME ZONE

Eastern (GMT − 6 hours)
Central (GMT − 5 hours)
_______________________________________________
back to top
_______________________________________________
1. It's named after Francis Nash, who was one of the few Patriot generals killed during the American Revolution. Among the early pioneers who settled Fort Nashborough, as it was first known, was a young Rachel Donelson, the future wife of President Andrew Jackson.

General William Driver
2. General William Driver retired to Nashville in 1837 and every morning would run up an enormous American flag he called "Old Glory" outside his home. After rumblings about secession began to spread, he hid the flag by sewing it into a coverlet. When Nashville fell to Union troops in 1862, Driver marched out and cut open his coverlet in front of General William "Bull" Nelson. The regiment ran up Driver's flag at the capitol building and proclaimed their new motto "Old Glory."
3. Historians credit The Battle of Nashville, fought in December 1864, as one of the greatest tactical victories for the Union Army during the Civil War. Fifty thousand Union defenders smashed one of the Confederacy's largest armies at the time, the Army of Tennessee, and sent them retreating south to Mississippi.
4. Downtown Presbyterian Church, built in 1851, is one of the few examples of Egyptian Revival architecture in America.
5.Nashville's musical reputation began with the Jubilee Singers of Fisk University, an all-black a capella group that toured the nation during the 1870s to raise money for the university. Their 1909 recording of "Swing Low Sweet Chariot" was among the first inducteesto the National Recording Registry, in 2002.
6. In 1892, salesman Joel Owsley Cheek convinced the food buyer for Nashville's prestigious Maxwell House hotel to offer patrons his unique coffee blend, which he'd perfected by roasting over his mother's stove. The coffee was such a hit that the hotel's manager let Cheek sell it under the Maxwell House name. In 1907, President Theodore Roosevelt paid a visit and, after drinking a cup, supposedly proclaimed it "Good to the last drop."
7. In 1912, the Standard Candy Company came out with the Goo Goo Cluster, a candy bar filled with peanuts, marshmallow nougat and caramel. It was the first candy bar to combine more than two ingredients, and is still a favorite in Nashville and throughout the South.
8. The Grand Ole Opry, the country's longest-running radio show, began in 1925 as the WSM Barn Dance. Appearing on the WSM radio station (the call letters stood for sponsor National Life & Accident Company's slogan, "We Shield Millions!"), the featured performer was a fiddle player named Uncle Jimmy Thompson. Two years later, the show's announcer, George Hay, came on the air following a classical music program and famously said, "For the last hour, we have been listening to music taken largely from grand opera and the classics. We now present our own Grand Ole Opry."
9.During Prohibition, print shops along Printer's Alley ran a collection of bars that became the city's not-so-secret secret bar scene. After Prohibition was repealed, many of the bars stayed open, and several are still in business today.
10. Its well-known nickname was first uttered in 1950, when WSM announcer David Cobb proclaimed Nashville "Music City, USA."
More Facts click Link below :
https://www.mentalfloss.com/article/69717/25-things-you-should-know-about-nashville
_______________________________________________
back to top
_______________________________________________
1.ISLAMIC CENTER OF NASHVILLE
2.Muslims Used To Love Living In Tennessee — Now It's A Nightmare
https://www.buzzfeednews.com/article/davidnoriega/muslims-used-to-love-living-in-tennessee-now-its-a-nightmare
3.a new mosque opens in Bellevue as sign of growing Muslim community
https://www.tennessean.com/story/news/religion/2019/05/01/ramadan-nashville-new-mosque-opens-bellevue-growing-muslim-community/3501468002/
_______________________________________________
back to top
_______________________________________________