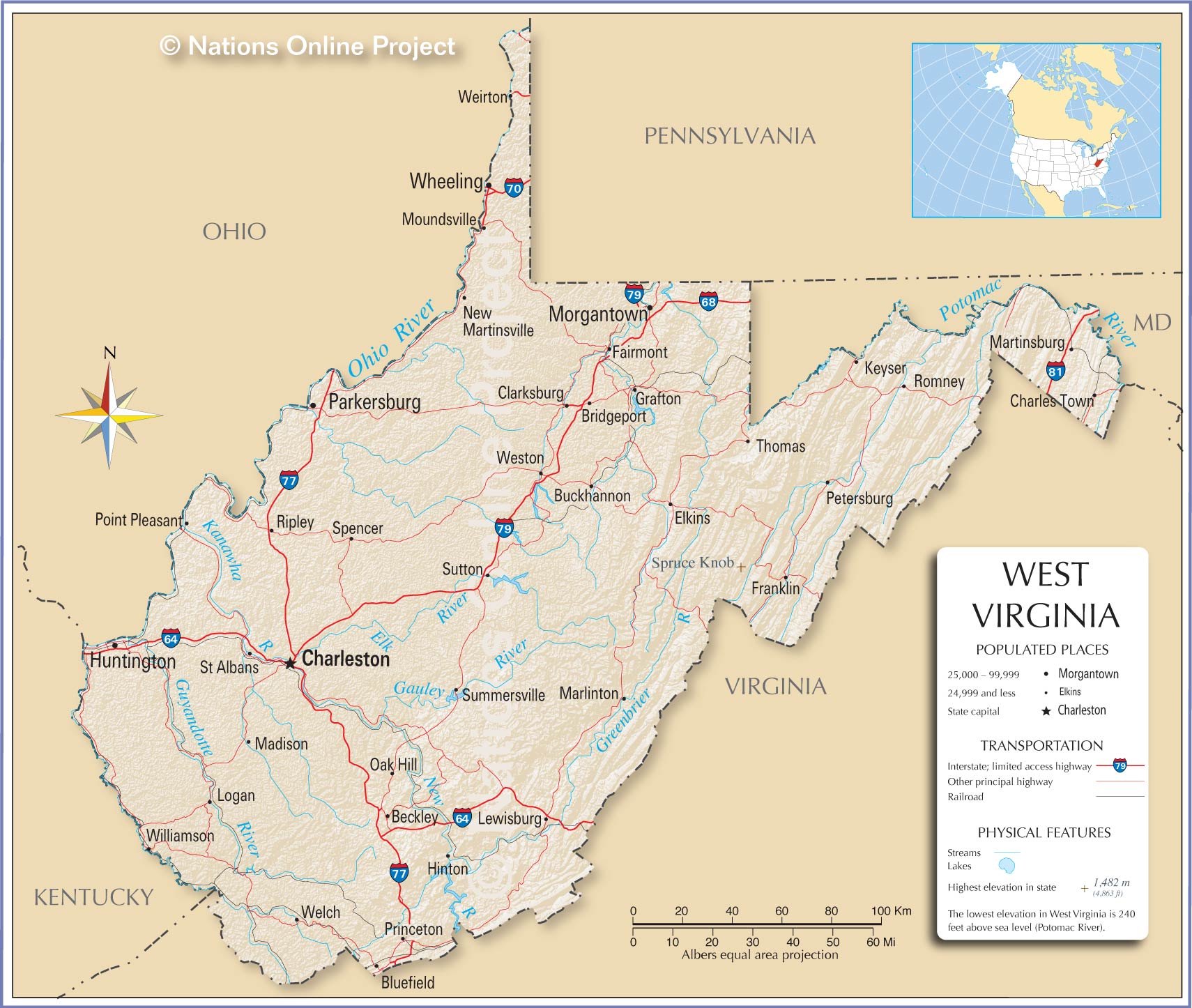 West Virginia
STATE, UNITED STATES
Seal of West Virginia
The cardinal is the state bird of West Virginia.
West Virginia's state flower is the big rhododendron.
CAPITAL
POPULATION1

(2010) 1,852,994; (2019 est.) 1,792,147
TOTAL AREA (SQ MI)

24,230
TOTAL AREA (SQ KM)

62,756
GOVERNOR

Jim Justice (Democrat)
STATE NICKNAME

Mountain State
DATE OF ADMISSION

June 20, 1863
STATE MOTTO

"Montani Semper Liberi (Mountaineers Are Always Free)"
STATE BIRD

northern cardinal
STATE FLOWER

big rhododendron
STATE SONG

"The West Virginia Hills"
"This Is My West Virginia"
"West Virginia My Home Sweet Home"
U.S. SENATORS

Shelley Moore Capito (Republican)
Joseph Manchin (Democrat)
SEATS IN U.S. HOUSE OF REPRESENTATIVES

3 (of 435)
TIME ZONE

Eastern (GMT −5 hours)
_______________________________________________
back to top
_______________________________________________
Population: 2 million
Nickname: Mountain State
Key Cities: Morgantown, Charleston, Huntington, Wheeling, Fairmont
Postal Abbreviation: WV
Major Industries: Chemicals, biotech, energy, aerospace, automotive
1. How did West Virginia get its name: West Virginia was formed when 39 counties split from Virginia instead of joining the Confederacy.
2. The new state's name was borrowed from Virginia, which was named in honor of Elizabeth I, Queen of England.
3. Date admitted to the Union: Saturday, June 20, 1863
4. When Virginia voted to secede from the Union in 1861, representatives from 39 counties who were against this decision held a meeting.
5.They voted to side with the Union and form a separate state. In 1863, Abraham Lincoln signed the order recognizing West Virginia as its own state.
6.West Virginia's historic Greenbriar Hotel was built in 1778, and more than half of all U.S. presidents have stayed there.
7.For 30 years, the hotel also held a secret bunker where Congress could meet in case of a nuclear attack.
8. The New River (which runs through West Virginia, Virginia, and North Carolina) is actually one of the oldest rivers in the world. Some experts believe it's second only to the Nile River in Egypt.
9.The New River Gorge Bridge is the second highest steel arch bridge in the world at 876 feet. On Bridge Day each October, people gather to parachute and bungee jump off the giant bridge.
10.About 100,000 people attend the event annually.
11.West Virginia is responsible for 15 percent of U.S. coal production.
12.The state is also home to the Coal House, the only residence in the world made entirely of coal. It's located in White Sulphur Springs.
source : https://www.coolkidfacts.com/west-virginia-facts/
_______________________________________________
back to top
_______________________________________________
1.Islam Association of West Virgina
_______________________________________________
back to top
_______________________________________________